It is 2016, and Hurricane Katrina is 11 years in the past. But Katrina is ever present in New Orleans. Homes are still ragged and unlivable. Families are still displaced. Landscape is forever changed. Since Katrina, natural disasters have struck across the country (and the world) again and again. In fact, my family and home were at the center of the destruction of Tropical Storm Irene in Vermont in 2011.
How do we explain these disasters to children? How do we help them develop the empathy for people they see in need on the news? Can Another Kind of Hurricane inspire readers to help heal such a community? Oh, I hope so. I hope so with all my heart.

The "Another Kind of Hurricane" Project (AKOH Project) hopes to inspire classrooms and other groups of readers to build connections to other schools or communities in need.  We know that reading fiction builds empathy and we know that children can feel powerless when disaster strikes in their hometown or in other parts of the world.  The AKOH Project seeks to turn empathy into the power to help and to connect.
DOWNLOAD The "Another Kind of Hurricane" Project: Guide
While the guide encourages you to develop your own unique project with your readers, we do offer two sample projects in this guide: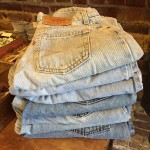 Community Service Project: Blue Jeans Drive
This project encourages a school or other group to identify a sister classroom or group in an affected community and hold a blue jeans drive for that community. Families are asked to donate a pair of new or used jeans and leave something in the pocket (like a marble or letter) as a community-to-community connection.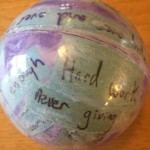 Art & Writing Project: Magic Marbles
The art and writing project asks readers to explore the ideas of Passion, Grit, Self-Discipline, and the ability to "Break Through Brick Walls," and finally how they come together to make Perseverance. That exploration in words and ideas is collaged into a plastic ball to create one's own marble.